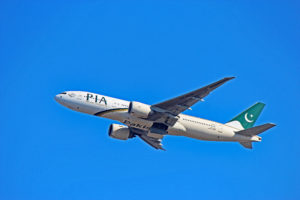 Update June 22, 2017: A new gallery with images taken June 8, 2017 has been added below, offering more close-up views of AP-BGZ. Also, an updated incident has been added, involving a rather crappy situation the Boeing 777-200LR experienced in November, 2016.
AP-BGZ is a Boeing 777-200LR belonging to Pakistan International Airlines. Toronto is one of just 36 international destinations PIA flies to. The 777-200 is not the airline's largest aircraft – that honour goes to the Boeing 777-300ER after PIA retired its last Boeing 747 in 2015.
The images in the gallery below were taken at Toronto Pearson International Airport (YYZ) on April 22, 2016. For full sized high resolution images, just click on any of the photos in the gallery. See below for more information on this specific airliner, Boeing 777-200LR's in general and the airline.
AP-BGZ PIA Boeing 777-200LR Image Gallery
Updated AP-BGZ Pakistan International Airlines Boeing 777-200LR Image Gallery (June 8, 2017)
AP-BGZ
AP-BGZ took its first flight on May 24, 2005 and was delivered to PIA on March 22, 2006. The plane is configured with 35 seats in business class, 60 in premium economy and 215 more in economy class.
This airplane has had its share of incidents over the past few years. On December 5, 2014, AP-BGZ was flying from Toronto to Karachi, Pakistan when the plane experienced rapid loss of cabin pressure shortly after leaving YYZ. The plane returned to Toronto and landed safely.
Two days later, AP-BGZ again attempted to leave Toronto for Karachi. On the climb out of Toronto, the cabin was still not properly pressurizing. Once again, the Boeing 777-200LR returned safely to YYZ. The airliner finally reached Karachi on December 10.
On February 19, 2015, the plane received engine damage from a bird strike while landing at Lahore. On April 22, 2015, a bird strike again damaged the airplane, damaging landing gear while landing at Karachi.
A rather crappy situation emerged during a flight on November 19, 2016 on a flight from Toronto, Ontario to Lahore, Pakistan. The aircraft had to be diverted to Manchester, England after the toilets on the Boeing 777 ceased to function. A passenger flushed down a solid object resulting in a blockage to the common drain line. The toilets were serviced in Manchester and AP-BGZ continued on its way to Lahore.

Boeing 777-200LR
With the LR standing for Longer Range, the first 777-200LR entered service in 2006 as the world's longest range commercial airliner. Boeing nicknamed the airplane the Worldliner and it holds the record for the longest nonstop flight by a commercial airplane.
The 777-200LR can be configured for up to 440 passengers. The airliner is 209 feet long with a wingspan of 213 feet. At the tail, the 777-200LR is 61 feet high.

Pakistan International Airlines
The national carrier of Pakistan was founded in 1946 as Orient Airways. In 1955, the airline became Pakistan International Airlines. PIA is headquartered in Karachi at Jinnah International Airport.
PIA travels to 30 domestic and 36 international destinations in 28 different countries. There are 43 planes in the fleet, consisting of Airbus A310 and A320, ATR 42-500 and 72-500, along with Boeing 777-200er, -200lr and -300er.
The airline retired its last Boeing 747 in 2015. An oddity amongst the world's airlines, PIA also retired the last of its Boeing 737's in 2015.

Resources
Pakistan International Airlines
More Like This: