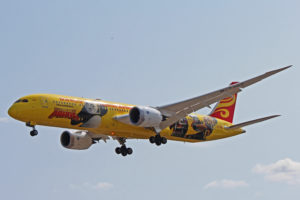 The special livery, one of the finer moments for aircraft photographers. B-7302 is a Boeing 787-9 Dreamliner that was just a few months old when we photographed it while plane spotting at Toronto Pearson International Airport (YYZ) on August 25, 2017. The B789 is painted from head to toe with characters from the Kung Fu Panda franchise of movies from Dreamworks.
For full-size, high resolution versions of any of the photos in the image gallery, simply click on the individual pictures. See below for more detailed information on B-7302, the Boeing 787-9 Dreamliner model in general and the airline.
B-7302 Hainan Airlines Boeing 787-9 Dreamliner Image Gallery
B-7302
B-7302 took its first flight on May 8, 2017 and was delivered to Hainan Airlines on May 23, 2017. One of 12 Boeing 787-9 Dreamliner aircraft in the fleet, B-7302 is configured for a total maximum of 292 passengers with 30 seats in business class and 262 more in economy class.
The airplane is painted with a special Dreamworks Kung Fu Panda livery. The Kung Fu Panda franchise consists of three big screen movies with voices performed by Jack Black, Dustin Hoffman, Angelina Jolie, Jackie Chan, Lucy Liu, Seth Rogen and others.
Boeing 787-9 Dreamliner
The first B789 took flight on September 17, 2013 and first entered service with Air New Zealand on July 8, 2014. This aircraft is 63 metres or 206 feet in length, 20 feet longer than the initial Boeing 787-8 variant. Both models share the same 60 metre or 197 foot wingspan. At the tail, the Boeing 787-9 Dreamliner stands 17 metres or 56 feet in height.
Hainan Airlines
Established in 1989 as Hainan Province Airlines, the name was shortened to just Hainan Airlines in 1996. The parent company is Grand China Air and includes seven subsidiaries. The airline is headquartered in Haikou, Hainan, China and has a fleet of 186 aircraft flying to 110 destinations around the world.
The fleet is led by the Airbus A330-300 and Boeing 787-9, both capable of carrying a maximum total of 292 passengers. Hainan, like most China based airlines, has orders in for the Chinese built Comac C919. Deliveries will start in 2020 or later for this competitor airliner for the Boeing 737 MAX and Airbus A320neo.
Resources
More Like This: