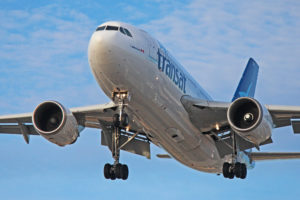 These classics will be around for a just a few more years. C-FDAT is one of nine Airbus A310-300 aircraft in the Air Transat fleet. However, the airliners are slated to be replaced by Airbus A321LR models in 2019. The particular A313 was nearer the end of production, delivered in 1992. We photographed this airliner on October 22, 2017 while plane spotting at Toronto Pearson International Airport (YYZ) in Mississauga, Ontario.
For full-size, high resolution versions of any of the photos in the image gallery, simply click on the individual pictures. See below for more detailed information on C-FDAT, the Airbus A310-300 model in general and the airline.
C-FDAT Air Transat Airbus A310-300 Image Gallery
C-FDAT
C-FDAT took its first flight on September 3, 1992 and was delivered to Emirates on November 19, 1992 as A6-EKK. This was near the end of the A310 heyday at Airbus. 24 were delivered in 1992 and 22 were delivered in 1993. After that, just nine were delivered between 1994 and 1998, the last of its kind.
On April 3, 2002, C-FDAT was delivered to Air Transat. As mentioned, this is one of nine Airbus A310-300 models in the fleet and they are one of the world's top operators of this particular type of aircraft.  The airliner is configured for a maximum total of 250 passengers with 12 seats in Club Class (premium economy) and 238 more in economy class.
Back on July 15, 2003, the airplane had a problem at Manchester Airport in England but it wasn't any fault of the aircraft or crew. After landing safely on a flight from Toronto, Ontario to Manchester, the Airbus A310-300 was allocated to a stand that was obstructed. The airbridge was set up for a Boeing 757-200 and never adjusted to the A313. C-FDAT struck the airbridge, resulting in damage to the upper surface of the airliner's left engine cowling.
Just a short time ago, on June 16, 2017, C-FDAT was flying from Barcelona, Spain to Montreal, Quebec. On final approach, the crew experienced a hydraulic issue but landed safely with no emergency services needed. Hydraulic fluid was observed on the taxiway and it was close for about an hour for clean up.
Airbus A310-300
The Airbus A310 was introduced with Swissair in 1983 and the Airbus A310-300 variant also first entered service with Swissair in 1986. The aircraft is 47 metres or 153 feet in length with a wingspan of 44 metres or 144 feet. At the tail, the airliner stands 16 metres or 52 feet in height. The flight range is 8,300 kilometres.
In all, 255 A310's were delivered between 1983 and 1998. Currently, there are still 41 in service. Air Transat is one of the world's primary users of this aircraft with nine of those 41 in their fleet.
Air Transat
Air Transat commenced operations in 1987 and has a seasonally fluctuating fleet of around 30 aircraft flying to 60 destinations in 30 countries. The airline is headquartered in Montreal, Quebec and uses both Montreal Pierre Elliott Trudeau International Airport (YUL) and Toronto Pearson International Airport (YYZ) as main hubs.
Resources
Montreal Pierre Elliott Trudeau International Airport
Toronto Pearson International Airport
More Like This: