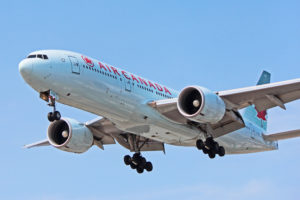 C-FIUF is one of six Boeing 777-200LR aircraft in the Air Canada fleet and we've now photographed five of them. A rare bird, there are just 59 B77L variants that were ever delivered by Boeing. We captured this particular airliner on July 21, 2017 while plane spotting at Toronto Pearson International Airport (YYZ).
For full-size, high resolution versions of any of the photos in the image gallery, simply click on the individual pictures. See below for more detailed information on C-FIUF, the Boeing 777-200LR model and the airline.
C-FIUF Air Canada Boeing 777-200LR Image Gallery
C-FIUF
C-FIUF took its first flight on July 17, 2007 and was delivered to Air Canada on August 7, 2007. This Boeing 777-233LR is configured for a maximum total of 300 passengers with 40 seats in business class and 24 more in premium economy and 236 seats in economy class. As mentioned, this is one of just six B77L variants in the Air Canada fleet and one of 59 to ever be delivered by Boeing.
It's lone blemish came on a June 16, 2013 flight from Sydney, Australia to Vancouver, British Columbia. Over the Pacific Ocean, an acrid odour began to emanate from one of the washrooms. The aircraft was diverted to Nadi, Fiji for a safe landing. The cause was a faulty light ballast in the washroom. However, what would seem to be such a simple issue caused a 30 hour delay.
Boeing 777-200LR
The LR is for 'longer range' and the Boeing 777-200LR has been dubbed the Worldliner for its ability to connect almost any two airports around the world in a single flight. In fact, it owns the record for the longest nonstop flight by a commercial airliner.
The first B77L was delivered to Pakistan International Airlines (PIA) on February 26, 2006. The aircraft is 64 metres or 209 feet in length with a wingspan of 65 metres or 213 feet. At the tail, the airliner stands 19 metres or 61 feet in height. The flight range is 15,840 kilometres, some 2,200 KM more than the Boeing 777-300ER.
Air Canada
Air Canada was founded in 1937 as Trans Canada Air Lines, under the management of the Canadian National Railway (CNR). Although the current name was used before, it was officially changed on January 1, 1965. The airline is headquartered at the Air Canada Centre, on the grounds of Montreal Pierre Elliott Trudeau International Airport (YUL).
The airline has a main fleet of around 175 aircraft flying to over 200 destinations worldwide. These numbers inflate to over 400 aircraft traveling to 350 destinations around the world when subsidiaries are added in. The largest in the fleet is the Boeing 777-300ER, while the most numerous is the Airbus A320-200. Air Canada is a founding member of the Star Alliance.
Resources
More Like This: