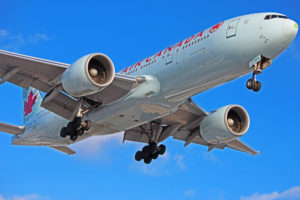 C-FIVK is one of just six Boeing 777-200LR aircraft in the Air Canada fleet and one of just 59 of this B77L variant to be delivered by Boeing. The photos were taken at Toronto Pearson International Airport (YYZ) while plane spotting on February 14, 2016.
For full-size, high resolution versions of any of the photos in the image gallery, simply click on the individual pictures. See below for more detailed information on C-FIVK, the Boeing 777-200LR model in general and the airline.
C-FIVK Air Canada Boeing 777-200LR Image Gallery
C-FIVK
This Boeing 777-233LR made its first flight in January, 2008 and was delivered the same month to Air Canada. The airliner, based at Montreal's Pierre Elliott Trudeau International Airport, is configured with 40 international business class seats, 24 premium economy seats and 236 more in economy class.
C-FIVK has been involved in some incidents over the past few years. On September 6, 2014, the plane was enroute from Toronto to Shanghai, China. Over Russia, the first officer became ill and was unable to perform his duties. The first officer was replaced by a member of the flight crew and the plane landed at its destination without further incident.
On February 5, 2015, the plane was traveling from Bridgetown, Barbados to Toronto, Ontario. A cargo smoke indication was reported just after takeoff. The Boeing 777-200LR returned to Bridgetown safely and no trace of fire, smoke or heat was found.
A Hogan Wings 1:200 scale model of this exact aircraft with C-FIVK on the side of the airplane is available from Amazon. This is a high quality and detailed model with full landing gear and a display stand. For more information or to purchase, take a look here: HG0335G Hogan Wings Air Canada 777-200lr 1:200 W:Gear C-FIVK Model Airplane
.

Boeing 777-200LR
This variant of the Boeing 777 family first entered service in 2006. The LR stands for long range and the airliner entered service as the world's longest range commercial airliner. Boeing originally nicknamed it the Worldliner for its ability to travel between virtually any two destinations on earth.
Its maximum capacity is for 440 passengers in a single class configuration. The B77L is 209 feet long with a 213 foot wingspan. At the tail, she stands 61 feet tall.

Air Canada
The airline was founded in 1937 as Trans-Canada Air Lines. The name was switched to Air Canada on New Year's Day in 1965. Currently, there are over 170 planes in the Air Canada fleet with over 180 destinations worldwide.
Headquartered at the Air Canada Centre on the grounds of Montreal's Pierre Elliott Trudeau International Airport (YUL), Air Canada is a founding member of the Star Alliance. There are now 27 airlines in the alliance. Along with Air Canada, other founding members include Germany's Lufthansa, Scandinavian Airlines, Thai Airways and United Airlines.

Resources
More Like This: