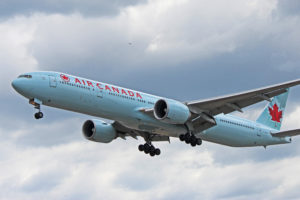 C-FIVW is one of 19 Boeing 777-300ER aircraft currently in the Air Canada fleet, their largest aircraft. We photographed the B77W while plane spotting at Toronto Pearson International Airport (YYZ) on July 29, 2017.
For full-size, high resolution versions of any of the photos in the image gallery, simply click on the individual pictures. See below for more detailed information on C-FIVW, the Boeing 777-300ER model in general and the airline.
C-FIVW Air Canada Boeing 777-300ER Image Gallery
C-FIVW
C-FIVW took its first flight on May 16, 2013 and was delivered to Air Canada on June 14, 2013. As mentioned, this is one of 19 Boeing 777-300ER airliners in the Air Canada fleet. The aircraft is configured for a maximum total of 400 passengers with 40 seats in business class, 24 more in premium economy and 336 in economy class.
Near the end of summer, 2017, the B77W had some problems with the right side engine. Flying from Vancouver, British Columbia to Hong Kong, China on August 30, 2017, the crew of C-FIVW received a warning message just north of Anchorage, Alaska regarding the right side hydraulic system. The airplane turned around and returned to Vancouver (YVR) for a safe landing three hours later. The result was the replacement of the right side engine driven hydraulic pump.
Boeing 777-300ER
The first Boeing 777-300ER was delivered to Air France in 2004, nearly a decade after the initial 777 variant entered service with United Airlines in 1995. The B77W is 74 metres or 242 feet in length with a wingspan of 65 metres or 213 feet. At the tail, the airliner is 19 metres or 61 feet in height. The flight range for the 777-300ER is 13,650 kilometres.
Air Canada
Air Canada was founded as Trans Canada Air Lines in 1937 and commenced operations under the new name on January 1, 1965. Headquartered at Montreal Pierre Elliott Trudeau International Airport (YUL), Air Canada is a founding member of the Star Alliance, along with Lufthansa, Scandinavian Airlines, Thai Airways and United Airlines. Now, there are 27 member airlines around the world.
The airline has a fleet of around 175 aircraft flying to over 200 destinations worldwide. With subsidiaries added in, Air Canada flies to around 350 destinations with a fleet of nearly 400 airliners. The largest in the fleet is the Boeing 777-300ER and the most numerous is the Airbus A320-200.
Resources
More Like This: