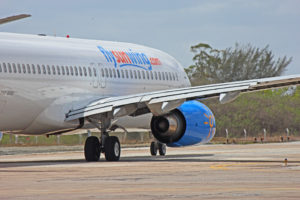 There's some weird irony to the fact that C-FJVE started out in life as N740EH in the fleet of Miami Air International. For around eight years, this airplane was based a mere 230 miles from Abel Santamaria Airport in Santa Clara, Cuba but couldn't fly between the two locations. Now, with Sunwing, a Canada based charter airline, the Boeing 737-800 flies to Cuba several times a month.
The photos in the image gallery below were taken in April, 2017 at Abel Santamaria Airport (SNU), while returning home from Iberostar Ensenachos. For full-sized, high resolution versions of any of the photos in the gallery, simply click on the individual pictures. See below for more information on this specific aircraft, the Boeing 737-800 model in general and Sunwing Airlines.
C-FJVE Sunwing Boeing 737-800 Image Gallery
C-FJVE
C-FJVE made its first flight on February 6, 2006 and was delivered to Miami Air International on February 22, 2006 as N740EH. Sunwing leased the Boeing 737-800 from Tombo Aviation on December 15, 2014. Travel Service leased the airplane from Sunwing over the summer months from June 1, 2016 to September 26, 2016. Sunwing leases other aircraft from Travel Service over the winter months.
Miami Air International is a high end charter company headquartered in Miami-Dade County, Florida. Miami Air was founded in 1990 and commenced operations in 1991. The airline has a fleet of nine aircraft consisting of two Boeing 737-400 and seven Boeing 737-800. Among their contracts, Miami Air works with the United States Air Force to transport troops and cargo.
As for Travel Service, this is a charter airline out of the Czech Republic that was founded in 1997. Their fleet fluctuates seasonally above and below 20 aircraft. All their fleet consists of some variation of Boeing 737. Travel Service flies to over 90 destinations and is headquartered in Prague. The airline has subsidiaries in Poland, Hungary and Slovakia.

Boeing 737-800
The Boeing 737-800 is 40 metres or 130 feet in length with a wingspan of 36 metres or 118 feet. At the tail, the airplane stands 13 metres or 41 feet in height. The flight range is 4,300 kilometres.
The -800 version is a stretched version of the Boeing 737-700, measuring 19 feet longer. The first 737-800 entered service in 1998 with Hapaq-Lloyd Flug (now TUIfly). This aircraft is in direct competition with the Airbus A320.

Sunwing Airlines
Founded in 2005, Sunwing Airlines is a low-cost charter carrier headquartered in Toronto, Ontario, Canada. Sunwing has a fleet of nearly 40 aircraft, currently all Boeing 737-800 models. The airline has seasonal leasing deals with European airlines Thomson Airways, TUIfly Belgium, TUIfly Germany, SmartWings and Travel Service. Sunwing flies to over 73 destinations and is in direct competition with Air Transat.

Resources
More Like This: