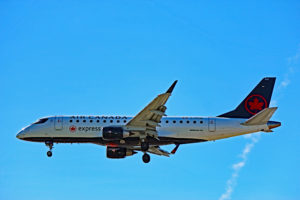 I was able to capture this exact aircraft on May 20, 2017 with much better images – see the bottom of the article for the latest image gallery…
The conditions weren't the best. The lens was stretched to capacity to try and zoom in on C-FRQN. However, I finally photographed an airplane with the new Air Canada livery. This Embraer ERJ-175 flies under the Air Canada Express brand and is operated by Sky Regional Airlines. The images were taken at Toronto Pearson International Airport (YYZ) on April 23, 2017.
For full-size, high resolution versions of any of the images in the gallery, simply click on the individual pictures. See below for more detailed information on this specific aircraft, the Embraer ERJ-175 model, Air Canada Express and Sky Regional Airlines.
C-FRQN Air Canada Express Embraer ERJ-175 Image Gallery
C-FRQN
C-FRQN has only been in the Air Canada Express fleet since February 11, 2017. The Embraer ERJ-175 first entered service on November 2, 2006 as VT-PAF with Paramount Airways India. The airplane went into storage in March, 2010 after Paramount ceased operations. Paramount was founded in 2005 and was based in Chennai, India.
The aircraft then flew with TRIP Linhas Aereas as PP-PJH from November 14, 2010 to March, 2013. TRIP was founded in 1998 and ceased operations in 2014 when it was integrated back into the parent company Azul Brazilian Airlines. At the time, the airline had a fleet of 54 and flew to 93 destinations. TRIP was headquartered in Sao Paulo, Brazil.
From July 28, 2013 to November, 2016, the Embraer ERJ-175 was in the fleet of AeroMexico Connect, registered as XA-GAB. A subsidiary of AeroMexico, the regional airline commenced operations in 1998 and is headquartered in Mexico City. A member of the SkyTeam Alliance, AeroMexico Connect flies to 66 destinations with a fleet of 66 Embraer regional jets.
C-FRQN is configured with 86 seats in a single class system.

Embraer ERJ-175LR
Part of the Embraer E-Jet Family, the ERJ-175 made its first flight in June, 2003 and entered service in July, 2005 with Air Canada. Well over a thousand E-Jet family aircraft have been produced to date.
The aircraft is 32 metres or 104 feet in length with a wingspan of 29 metres or 94 feet. At the tail, the airplane stands ten metres or 32 feet in height. The LR stands for long range and the cruise range for the ERJ-175LR is 3,982 kilometres.

Air Canada Express
Air Canada Express was founded in 2011 by the parent Air Canada after they retired the Jazz name. The fleet of 166 aircraft is operated by four regional airlines, including Air Georgian, Exploits Valley Air Services, Jazz Aviation and Sky Regional Airlines. The subsidiary is headquartered in Montreal, Quebec and travels to 119 destinations.

Sky Regional Airlines
Sky Regional Airlines commenced operations under the Air Canada Express brand on May 1, 2011. The airline has a fleet of 25 Embraer ERJ-175 aircraft and flies to 24 destinations. Sky Regional is headquartered on the grounds of Toronto Pearson International Airport (YYZ) and is a member of the Star Alliance through their affiliation with Air Canada, a founding member of the alliance.

Resources
C-FRQN Air Canada New Livery Image Gallery from May 20, 2017
More Like This: