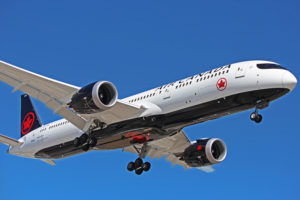 A real bonus to see a Boeing 787-9 Dreamliner in Air Canada's new livery. An even bigger bonus to photograph C-FRTG just two weeks after being delivered from Boeing to Air Canada. On June 8, 2017, we capture this airplane at Toronto Pearson International Airport (YYZ). The Boeing 787-9 had been in service with the airline for just two weeks.
For full-size, high resolution versions of any of the photos in the image gallery, simply click on the individual pictures. See below for more detailed information on C-FRTG, the Boeing 787-9 Dreamliner model and the airline.
C-FRTG Air Canada Boeing 787-9 Dreamliner Image Gallery
C-FRTG
C-FRTG made its first flight on May 11, 2017 and was delivered to Air Canada on May 24, 2017 sporting the airline's new black, red and white livery. This is the 19th of 20 Boeing 787-9 Dreamliner models currently in the fleet with more on the way.
The aircraft is configured for a maximum total of 298 passengers with 30 seats in business class, 21 more in premium economy and 247 in economy class.
Boeing 787-9 Dreamliner
The Boeing 787-9 Dreamliner, or 789 for short, made its first flight on September 17, 2013 and entered service with Air New Zealand on July 8, 2014. The aircraft is 63 metres or 206 feet in length with a wingspan of 197 feet or 60 metres. At the tail, the airliner stands 17 metres or 56 feet in height.
The first 787 of any kind, the Boeing 787-8, was introduced in October, 2011 with All Nippon Airways. The 787-9 is six metres or 20 feet longer than the original version and, with a flight range of 14,140 kilometres, it can fly 500 KM further. The upcoming 787-10 model is given a flight range of just 11,908 KM.
Air Canada
As of June 11, 2017, Air Canada has a fleet of 172 aircraft that fly to 200 destinations worldwide. Including subsidiaries Air Canada Rouge and Air Canada Express, the airline flies some 387 aircraft to over 350 destinations.
Air Canada was founded in 1937 as Trans-Canada Air Lines with the name change coming in 1965. The airline is headquartered at the Air Canada Centre on the grounds of Montreal Pierre Elliott Trudeau International Airport (YUL) in Dorval, Quebec. The airline is a founding member of the Star Alliance, along with Lufthansa, Scandinavian Airlines, Thai Airways and United Airlines.
The Boeing 787-9 Dreamliner might be the star of Air Canada fleet but the Boeing 777-300ER is the airline's largest. The most plentiful aircraft in the fleet is the Airbus A320-200 and the smallest in the main fleet is the Embraer ERJ-190.
Resources
Air Canada Boeing 787-9 experience
Toronto Pearson International Airport video
More Like This: