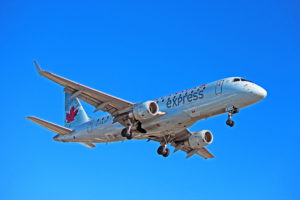 Manufactured in Brazil by Embraer, C-FXJF stayed close to home for its first few years. The Embraer ERJ-175 began life as PP-PJF in the fleet of TRIP Linhas Aereas. That airline ceased operations in 2014 and C-FXJF eventually made it's way into the fleet of Sky Regional Airlines. Sky Regional operates flights on behalf of Air Canada.
The images in the gallery below were taken at Toronto Pearson International Airport (YYZ) on February 19, 2017. For full size, high definition versions of any of the photos in the gallery, simply click on the individual pictures. See below for more information on this specific aircraft, the Embraer ERJ-175 model in general and the airline.
C-FXJF Air Canada Express Embraer ERJ-175 Image Gallery
C-FXJF
C-FXJF was delivered on May 28, 2010 to TRIP Linhas Aereas as PP-PJF. TRIP was founded in 1998 and ceased operations in 2014 when it merged with Azul Linhas Aereas. TRIP has been headquartered in Sao Paulo, Brazil.
On May 6, 2014 PP-PJF was officially transferred to Azul's fleet. Azul Airlines was founded in 2008 by David Neeleman, the founder of low cost carrier JetBlue. Azul is headquartered in Barueri, Brazil. The airline no longer has any ERJ-175 aircraft in their fleet.
In April, 2015, the aircraft went into storage. On December 11, 2015, the Embraer ERJ-175 emerged as C-FXJF with the Air Canada livery while owned and operated by Sky Regional Airlines. This was one of five ERJ-175 models that Sky acquired from Azul Brazilian Airlines in 2015. This expanded their fleet to 20 when added to the original 15 transferred from Air Canada in 2013.
This airplane is currently configured for 73 passengers. There are nine seats in business class and 64 more in economy class.

Embraer ERJ-175
The ERJ-175LR (ERJ170-200) is a member of Embraer's E-Jet family. The group includes E170, E175, E190 and E195 models. The first ERJ-175 flew in June, 2003 and first entered commercial service in July, 2005 with Air Canada. At the end of 2016, there were 1,300 produced in the family.
This aircraft is 32 metres or 104 feet in length with a wingspan of 29 metres or 94 feet. At the tail, the Embraer ERJ-175 stands ten metres or 32 feet in height. The LR version as a flight range of 3,982 kilometres.

Sky Regional Airlines
Sky Regional Airlines commenced operations under the Air Canada Express brand on May 1, 2011. By 2017, the airline's fleet of Embraer ERJ-175 aircraft will increase to 25. This is the only model of airplane the airline currently flies.
Headquartered on the grounds of Toronto Pearson International Airport, Sky Regional is a member of the Star Alliance, through their affiliation with Air Canada. The airline currently flies to 24 destinations.

Resources
More Like This: