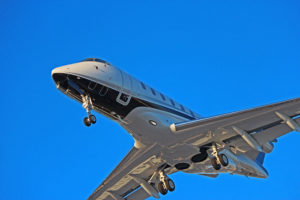 On New Year's Day 2017, we took a look at what seemed like a more than usual number of private jets landing at Toronto Pearson International Airport (YYZ). The one pictured in the gallery below is a Bombardier Challenger 300, registered C-GFHR.
This BD100-CL300 currently belongs to Fairmont Aviation Services Inc. For full-sized, high resolution versions of any of the photos in the image gallery below, simply click on the individual pictures. For more information about the airplane, see below.
C-GFHR Bombardier Challenger 300 Image Gallery
C-GFHR
C-GFHR, a Bombardier Challenger 300, is currently owned by Fairmont Aviation Services Inc. The ownership has bounced around a bit since it was first delivered in 2004. Other owners inclue NSHE Ocsceola LLC, CMK Air LLC, FHR Real Estate Corporation and the Craig Evan Corporation. Much would seem to be some sort of subsidiary of Fairmont Hotels & Resorts. Along the way, the jet was also registered N316LJ and N777VC.
There is one incident of note for C-GFHR. Back in June, 2007, the airplane was travelling between Prague in the Czech Republic and Geneva, Switzerland. A caution message came up regarding a hydraulic DC pump failure. It turns out, there was a a burned wire on the positive terminal of the left DC motor pump filter assembly.

Bombardier Challenger 300
Coined a 'super midsize business jet' by Bombardier, the Challenger 300, or BD100-CL300, made its first flight in August of 2001. The first Challenger 300 was delivered on April 15, 2004 to Dean Phillips Inc.
The jet is 21 metres or 69 feet in length with a wingspan of 19 metres or 64 feet. At the tail, the airplane stands six metres or 20 feet in height. The Challenger 300 can reach speeds of 891 kmh and has a cruise range of 5,741 kilometres.
These planes are manufactured by Learjet in Wichita, Kansas. Learjet was founded in 1962 and was originally named Swiss American Aviation Corporation. Bombardier Aerospace acquired Learjet in 1990.
Bombardier was founded in 1942 in Valcourt, Quebec, Canada. Bombardier Aerospace was founded in 1989 and includes a handful of companies acquired by the parent company. These include Canadair, Learjet, Short Brothers Aircraft Manufacturing from Belfast, Ireland and de Haviland Aircraft from Toronto, Ontario.

Resources
More Like This: