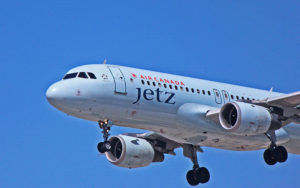 Interestingly, these images were taken on April 12, 2015. This Airbus A320-200 (C-GQCA) was shuffled from Air Canada Jetz back to the regular Air Canada fleet in May, 2012. Yet, it seems Air Canada neglected to give it a makeover.
Jetz is a small division of Air Canada that serves corporate clients and pro sports teams in a charter capacity. Currently, there are just three Airbus A319's in the fleet. This Airbus A320 was under the Jetz name for nearly a decade before being reconfigured and sent back to the parent airline.
Click on the individual images below for the full sized versions. See below for more info on the airplane and airline.
Images of C-GQCA Air Canada Jetz Airbus A320
C-GQCA
This airliner took its first flight way back in 1991. Originally, it was delivered to the now defunct Canadian Airlines. Since, it has been shuffled from Air Canada to Air Canada Tango to Air Canada Jetz and back again. It has been back under Air Canada since May, 2012.
With Jetz, the Airbus A320 was configured with 64 luxury business class seats. Now, back in regular service, it has been reconfigured with 14 business class and 132 economy class seats.
Just prior to leaving the Jetz fleet, the airplane was involved in an incident. On March 17, 2012, the Airbus A320 was carrying the Toronto Raptors of the NBA from Memphis, Tennessee to Charlotte, North Carolina. There were 48 on board.
The airplane rejected takeoff from Memphis after receiving a lavatory smoke ECAM warning. No trace of fire was found.
Air Canada Jetz
Established in October, 2001, Jetz is Air Canada's premium business service. The division has three Airbus A319's, each configured with 58 business class seats.
Jetz is the official carrier of the Toronto Raptors and Toronto Blue Jays, along with several National Hockey League teams. High profile clients outside the sports world include big name rock bands over their North American tours.
Airbus A320-211
Airbus introduced the A320 in 1988. There have only been two variants and all but 21 have been A320-200s. There were just 21 Airbus A320-100s ever produced.
The airliner is 38 metres or 123 feet in length. The wingspan is 36 metres or 118 feet. At the tail, the plane stands 12 metres or 39 feet in height. Maximum seating is for 186 in a one class configuration.
More Like This: