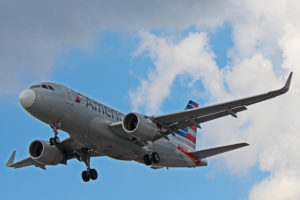 With 125 in the fleet, American Airlines is the second largest operator of the Airbus A319-100, behind just EasyJet. N9025B is just one of the many A319. We photographed this particular aircraft while plane spotting at Toronto Pearson International Airport (YYZ) on September 14, 2017.
For full-size, high resolution versions of any of the photos in the image gallery, simply click on the individual pictures. See below for more information on N9025B, the Airbus A319 model in general and the airline.
N9025B American Airlines Airbus A319 Image Gallery
N9025B
N9025B took its first flight on December 8, 2014 and was delivered to American Airlines on December 17, 2014. One of 125 in the fleet, this Airbus A319-115 is configured for a maximum total of 128 passengers with eight first class seats, 24 more in premium economy and 96 seats in economy class.
Airbus A319-100
The shortened version of the original variant in the A320 family, the Airbus A319-100 took its first flight on August 25, 1995 and was introduced with Swissair in 1996. Nearly 1,500 have been produced with just two being produced in 2017. Production will be replaced by the A319neo going forward. N9025B sports new style Airbus sharklets, what the neo models will have out of the factory.
The aircraft is 34 metres or 111 feet in length with a wingspan of 36 metres or 118 feet. At the tail, the airliner stands 12 metres or 39 feet in height. The flight range for the A319 is 6,950 kilometres.
American Airlines
Founded in 1926 and commencing operations in 1936 officially as American Airlines, the airline is headquartered in Fort Worth, Texas. AA is a founding member of the Oneworld Alliance, along with British Airways, Canadian Airlines, Cathay Pacific and Qantas. The alliance was founded in 1999 and now has 14 full members while headquartered in New York City.
American sports a fleet of 959 aircraft in their main fleet, flying to around 350 destinations worldwide. The largest in the fleet is the Boeing 777-300ER. AA is the largest operator of the Airbus A320 Family of aircraft. They are the largest operator of the Airbus A321 and the second largest operator of the shorter Airbus A319.
Resources
More Like This: