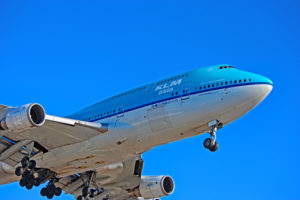 PH-BFY, a Boeing 747-400M belonging to a subsidiary of KLM, created to circumvent issues between China and Taiwan. KLM Asia allows the Dutch airline to service Taiwan without damaging traffic rights to the People's Republic of China.
This is a Boeing 747-400 Combi, meaning that the rear portion of the main deck can be converted to cargo space if desired. It looks like this particular aircraft is all passenger use, with closeups of the rear windows showing signs of passenger activity.
The images in the gallery below were taken on February 19, 2017 at Toronto Pearson International Airport (YYZ). For full sized, high definition versions of any of the photos, simply click on the individual pictures in the gallery. For more information on this particular aircraft, the model in general and the airline, see below.
PH-BFY KLM Asia Boeing 747-400M Image Gallery
PH-BFY
PH-BFY made its first flight on March 30, 2002 and was delivered to KLM on April 10, 2002. Dubbed the 'City of Johannesburg', the aircraft is painted with the KLM Asia livery. This means, there is no Netherlands flag and no crown logo on the tail or side of the airplane.
In the KLM Asia fleet, this is one of three Boeing 747-400M aircraft. In the entire KLM fleet, this is one of 12 -400 Combi jumbo jets. PH-BFY is configured with 35 seats in World Business Class, 36 in Economy Comfort and 340 more seats in economy. If the main deck was partitioned to carry cargo, the economy class would have just 197 seats.
Two incidents of note were found involving PH-BFY. On November 10, 2014, the Boeing 747 was flying from Amsterdam Schiphol Airport (AMS) to New York City's John F. Kennedy Airport (JFK). After two aborted takeoffs, it was determined that one of the four generators was malfunctioning. Maintenance cleared the aircraft to fly to New York with three generators.
Back on August 9, 2008, the Boeing 747 was set to land at Toronto Pearson on the east-west runway that runs parallel to Derry Road. It was the first aircraft set to land on Runway 05 after a wind direction shift. A Boeing 757 belonging to Thomas Cook Airlines was set to takeoff  from the north-south running Runway 33R, the last to takeoff from this runway. The overlap would have caused a conflict and potential risk of collision. The Boeing 757 rejected its takeoff and was cleared again after PH-BFY had landed.

Boeing 747-400M
The M in Boeing 747-400M means this aircraft is a Combi version, capable of carrying both passengers and cargo. The rear portion of the main deck has removable passenger seats that can allow for cargo containers to be placed in that space.
A large side cargo door behind the left wing allows cargo to be loaded on to the main deck as passengers are boarding. There are currently 58 Boeing 747-400 Combi aircraft in use today with various airlines. This is the only Combi aircraft currently in production by Boeing.
As for the Boeing 747-400 model in general, the first flew in 1988 and was introduced to the market in 1989. 694 were built with many being phased out due to high fuel consumption. KLM has begun phasing out their 747-400 models with ten to be retired by 2018. The first Boeing 747 of any kind was introduced in 1969.

KLM Asia
KLM Asia is a fully owned subsidiary of KLM Royal Dutch Airlines and is registered in Taiwan. The branch was established in 1995 to operated flights to Taiwan with causing a rift with mainland China. The subsidiary has three Boeing 747-400M in the fleet, along with nine other aircraft.
The livery is similar to the main company in colour. The plane is absent of a Netherlands flag, normally found on each side of KLM's aircraft. The logo on the tail and sides of the aircraft simply contains 'KLM Asia' in block letters and the dutch crown logo is absent.
KLM Royal Dutch Airlines was founded in 1919 and merged with Air France in 2004. The airline currently has 115 aircraft in the fleet with more than 140 destinations worldwide. KLM is headquartered at Amsterdam Schiphol Airport.
The airline is a member of the SkyTeam Alliance. SkyTeam was founded in 200 and KLM joined in 2004. There are 20 airlines in the alliance and it is also headquartered at Amsterdam Schiphol Airport.

Resources
More Like This: