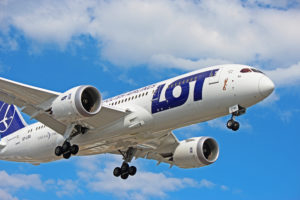 Less than a month after entering service for LOT Polish Airlines, we photographed SP-LRG while plane spotting at Toronto Pearson International Airport (YYZ) in Mississauga, Ontario on July 2, 2017. The Boeing 787-8 Dreamliner is one of now seven in the LOT fleet.
For full-size, high resolution versions of any of the photos in the image gallery, simply click on the individual pictures. See below for more detailed information of SP-LRG, the Boeing 787-8 Dreamliner model in general and the airline.
SP-LRG LOT Polish Airlines Boeing 787-8 Dreamliner Image Gallery
SP-LRG
SP-LRG took its first flight on May 23, 2017 and was delivered to LOT Polish Airlines on June 9, 2017. The images in the gallery above were taken just a short time after, on July 2, 2017. This airliner is configured for a maximum total of 252 passengers with 18 seats in business class, 21 more in premium economy and 213 in economy class. This is one of seven Boeing 787-8 aircraft in the LOT fleet. LOT Polish Airlines was the first European operator of this particular model of aircraft.
Boeing 787-8 Dreamliner
The Boeing 787-8 Dreamliner is the first of the 787 family. The airliner entered service with All-Nippon Airways in 2011. LOT Polish Airlines was the first European operator of this model.
The 787-8 is 57 metres or 186 feet in length, 20 feet shorter than the Boeing 787-9 Dreamliner. The wingspan is 60 metres or 197 feet and the height at the tail is 17 metres or 56 feet. The wingspan and tail height are common across all variations of 787, including the 787-9 and the yet to be released 787-10.
The flight range for the 787-8 is 13,621 kilometres. This is around 500 KM less than the 787-9.
LOT Polish Airlines
Founded on January 1, 1929, LOT Polish Airlines is one of the world's oldest airlines. Headquartered in Warsaw, Poland, the airline is currently 68% owned by the Polish Government, although privatization is desired.
The airline became a member of the Star Alliance in 2011 and uses Warsaw Chopin Airport (WAW) as its main hub. LOT has a fleet of 52 aircraft that fly to 83 destinations worldwide. The 787-8 is currently the largest aircraft in the fleet but there are four 787-9 models on order for delivery starting in 2018.
Resources
More Like This: