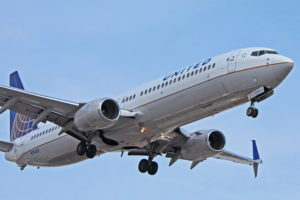 I believe this our first Boeing 737-900ER model on the website. N75428 is actually one of the few of this popular variant that fly into Toronto Pearson International Airport (YYZ). We had to dig back into the archives a bit to pull these photos taken on April 18, 2016. United Airlines may be the only Boeing 737-900ER that lands at YYZ (I could be wrong) and it comes in late in the day when the lighting isn't so great.
For full-size, high resolution versions of any of the photos in the image gallery, simply click on the individual pictures. See below for more detailed information on N75428, the Boeing 737-900ER model in general and the airline.
N75428 United Airlines Boeing 737-900ER Image Gallery
N75428
N75428 took its maiden flight on October 3, 2008 and was delivered to Continental Airlines on December 10, 2008. Continental was founded in 1934 as Varney Speed Lines and commenced operations as Continental Airlines in 1937. The airline was acquired by United in October, 2010 and ceased operations on March 3, 2012. The airline had been headquartered in Houston, Texas, was a member of the SkyTeam Alliance and had a main fleet of 348 aircraft flying to 140 destinations worldwide.
This particular Boeing 737-924ER was transferred to the United fleet on November 30, 2011. N75428 is currently configured for a maximum total of 167 passengers with 20 seats in first class, 51 more in economy plus and 96 seats in economy class. This is one of 136 Boeing 737-900ER airliners in the main United fleet.
Boeing 737-900ER
The largest variant of the Boeing 737 Next Generation Family, the Boeing 737-900ER is a replacement for the Boeing 757-200 and a direct competitor of the Airbus A321. The first was delivered to Lion Air on April 27, 2007. Lion Air was founded in 1999 and commenced ops in 2000. The airliner, headquartered in Jakarta, Indonesia has a fleet of 113 aircraft flying to 126 destinations and also has a whopping 250 airplanes on order.
The Boeing 737-900ER is 42 metres or 138 feet in length, nine feet longer than the Boeing 737-800. The wingspan (with winglets installed) is 36 metres or 118 feet, a dimension shared across all Boeing NG variants. At the tail, the airliner stands 13 metres or 41 feet, a height shared with the B738. The flight range is 5,460 kilometres.
United Airlines
United Airlines was founded in 1926 and commenced operations in 1931. The member of the Star Alliance is headquartered at the Willis Tower (formerly Sears Tower) in Chicago, Illinois. The airline has a fleet over nearly 750 aircraft flying to nearly 350 destinations around the world. United has just recently phased out its last Boeing 747-400. The largest in the fleet is the Boeing 777-300ER while the most numerous is the Boeing 737-800.
Resources
More Like This: